Product SKU
6958947110419
Brand
Aspire
Availability
In Stock
Ohm
Quantity
Description
Highlight
*SOLD PER BOX
1 BOX INSIDE GOT 5x PCS
NAUTILUS BVC 1.8 OHM (WHITE)
The Aspire Nautilus coils can be combined with a wide range of Aspire kits and tanks including the Aspire K3 tank, Nautilus tank, Nautilus Mini tank, Nautilus 2 tank, Nautilus 2s tank, Nautilus GT tank, Nautilus Mini GT tank, Nautilus AIO kit. Available in a range of resistance they feature a BVC (Bottom Vertical Coil) build which increases flavour and cloud production.
Features:
Aspire Nautilus Replacement Coils
Range of Resistances
Cross-Compatible
BVC configuration
These coils are available in 0.4 Ohm, 0.7 Ohm, 0.7 Ohm mesh, 1.6 Ohm and 1.8 Ohm resistances allowing the user to configure their tank for either restricted direct to lung vaping or mouth to lung vaping, making them ideal for new users and experienced vapers alike.
The Aspire Nautilus AIO Coils have been designed for use with the Aspire Nautilus AIO Starter Kit.
NAUTILUS AIO 1.8 OHM (GREEN)
Designed for mouth to lung vaping they feature a 1.8 Ohm resistance, this makes them ideal for use with high PG eliquids that are 50% PG or higher.
These Aspire replacement vape coils have been specially constructed to handle salt nicotine eliquids, without reducing the life of your coils.
Features:
Designed for mouth to lung vaping
Plus Ohm resistance
Specially designed for salt nic eliquids
Aspire Nautilus 2S Replacement BVC Coil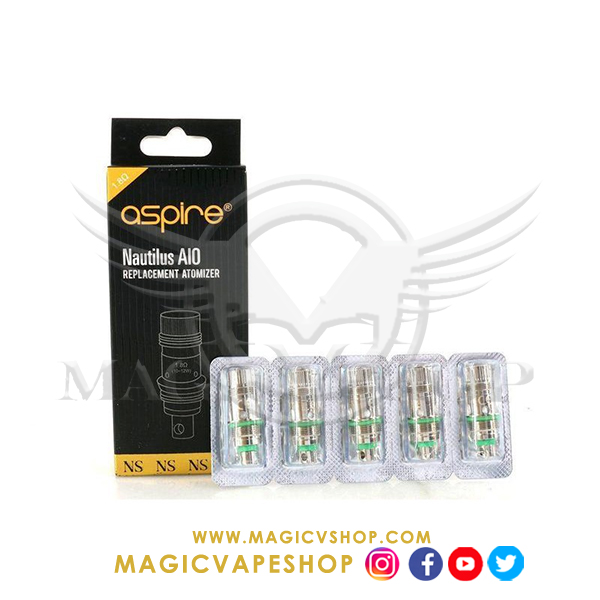 features 0.4ohm resistance. It is not only compatible with Nautilus 2S tank but also fit for other Nautilus series tanks. It is perfectly match with Nautilus 2S tank and give you excellent DL vaping experience. 5pcs in a pack.
0.4ohm - 23-28w
0.7ohm - 18-23w
1.6ohm - 7-11w (Suits K3 + Nautilus Tanks)
1.8ohm - 10-14w (Suits K3 + Nautilus Tanks)
Reviews (0)
view all
back
What's in the box
Aspire Nautilus BVC Replacement Coils Specifications: Manufactured by: Aspire Wire Material: Kanthal Resistance
(WHITE) Coil Type: Bottom-Vertical-Coil (BVC) Available Resistance: 1.8 ohm For Use With: Aspire Nautilus Mini, Aspire Nautilus, Aspire Nautilus 2 Recommended Wattage (1.8 Ohms): 8W - 14W
(GREEN) Coil Type: NS (BVC COIL FOR SALT NICOTINE) Available Resistance: 1.8 ohm For Use With: Aspire Nautilus AIO Recommended Wattage (1.8 Ohms): 10W - 12W
Coil resistance:0.4Ω Wattage: 23W - 28W Perfect fit for Aspire Nautilus atomizers tanks